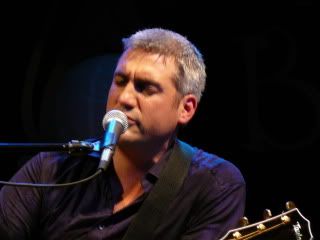 Taylor Hicks took to the stage at the Magic Bag in Detroit, MI yesterday and performed a very rare acoustic set before a full house of enthusiastic fans. Most of the set consisted of songs from his recently released album, The Distance, along with cuts from his self named post-Idol album. He was as handsome as ever, conversing lightly with the audience and seemed relaxed, happy and in his natural element playin' his music and singing his songs. He was accompanied by long time friends/musicians John Kulinich
http://www.myspace.com/johnkulinich
on guitar, Brian Less
http://www.myspace.com/brianless
on piano/keys, and Jason Parker on bass
http://www.waynemillsband.com/jason_parker.html
. Taylor of course blew some skillful harmonica along with guitar.
Complete Set List:
The Distance
I Live On A Battlefield
The Runaround
What's Right Is Right
Don't Let Me Down
The Deal
Wedding Day Blues
Once Upon A Lover
Nineteen
Gonna Move
Indiscriminate Act of Kindness
Maybe You Should
My Sweet Lord
Seven Mile Breakdown
Feeling Alright
From all accounts, this was one of his finest gigs in a long time, introducing and singing for the first time three new songs , "Maybe You Should", co-written by Taylor and Mike Reid, who penned Bonnie Raitt's hit single "I Can't Make You Love Me", "Indescriminate Act of Kindness", a gorgeous ditty penned by Foy Vance, and a great novelty cut, "Wedding Day Blues", written by Allen Little and Taylor Hicks. Quite evident is the emotional heart and soul he gives to each and every song he sings. He is one of the rare performers that actually delivers convincingly on stage and continues to be both a dynamic musical force as well as one of the biggest underrated talents of the last decade.
Currently he is starring in the touring company of "Grease" and if the show happens to roll into your neighborhood and he is playing a side gig like this in your local club, do yourself a favor and buy a ticket because talent like this deserves to be heard. Well done, Taylor.
Picture courtesy of "EJ" at the Boogie.