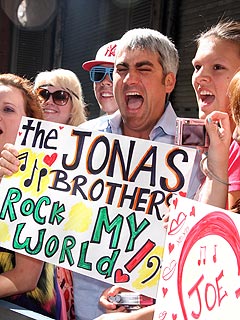 Leave it to People Magazine to give Taylor his props!! I don't know why, but I love this picture and I love the way Taylor jumped in with the Jonas Brother's fans! He just does what he wants with total freedom and is one happy dude these days!
Taylor Hicks is used to being the object of adoring fans – but when the Jonas Brothers made a TV appearance in New York, the American Idol swapped roles.

Hicks, who is currently starring in Grease on Broadway, couldn't resist partaking in Jonas Brothers mania with thousands of other fans outside of the Live With Regis & Kelly studios in New York City Thursday morning, he told PEOPLE.

"Once I arrived and saw all the Jonas Brothers fans, I got in on the screaming. We were all having a great time out there," said Hicks, who grabbed a sign from a fan and proudly held it up when the band arrived for the show. "We were all just being fans and that's a cool thing."

Asked if he's really a true fan, he told PEOPLE "I am!"

"What they do is awesome because it gets kids into music," said Hicks who was at the ABC studio to tape a performance of "Beauty School Dropout" for the show's Broadway Week celebration, to air on Friday.

"They are a classy act," he added, noting that Nick is his favorite Jonas Brother because "he's the leader of the band."

Sadly, Hicks didn't get to bond with the guys. "I just saw them in passing. They've got some pretty heavy security."

In addition to starring on Broadway, Hicks is busy recording his second album, which he hopes to release in the fall. "I love New York. I'm working on Broadway and it's a great way for me to get my feet wet in acting and a great way to season yourself as a performer," he said. "I've been able to breathe more as a songwriter, having the time and being able to find the right songs."
Source:
People